Her 1st Spring Concert Remembered
May 17, 2016
ARB Faculty Member, Jennifer Rose (Doyle) Latham, shares a dance memory from the Way-Back Machine.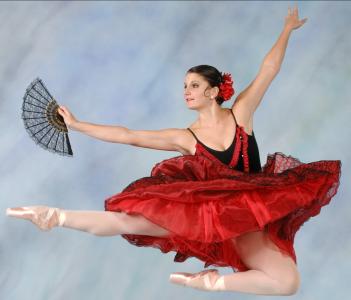 Here's my dance memory to share :)
"My 1st Spring Concert was the 1989 show! I was an excited kindergartener about to dance in the biggest show of her life...little did I know that that show would shape my life so much.

The Creative Movement class (what is now called Ballet Prep) was performing Mark (Mr. Mark) Koehler's "It's Raining Again", a dance that is being presented in this year's Spring Concert. I remember standing in the wings, in my pink raincoat and watching Jennifer Samsel performing a solo contemporary dance. My eyes were glued on her and I wanted to be just like her. Well her name was Jenny just like me so it had to mean that I could be just as good of a dancer as she was....if I worked hard, I could one day dance like her! That was my goal.
Immediately following her exit of the stage was our classes moment. We took that stage, and when I say we I mean myself and my best friend to this day Abigail (Plank) Carter, and we had so much fun in our first of many Spring Concerts. Me, I was one of the dancers lying on the floor with my legs going up and down, back and forth and loving every minute! And, I can't wait to see the dancers bring it back to the stage this coming weekend.
My 1st Spring Concert was the reason I was inspired by those that came before me and continued to dance. And I made a lifelong friend when we got to dance together in our debut on the Hugo Young stage! It was life changing and I am forever grateful."
**unfortunately I was unable to find a decent picture. If I would've been a part of this generation I could pull one up on my phone, right?? :) can't wait for the show this weekend!
DJ (Jennifer Rose (Dole) Latham)
What: 34th Annual Spring Dance Concert
When: May 20 & 21 at 7:30pm
Where: Ashland Univeristy's Hugo Young Theatre
Get Tickets Now at Ashland University Box Office
Weekdays Noon–6pm
419.289.5125
www.ASHLAND.EDU/TICKETS
It's Raining Again 2016 Cast :) Come See Them Dance!
Dance Memories Archive
Related Topics
« Back to Dance Memories