Mermaid Memory by Bulsey
April 29, 2016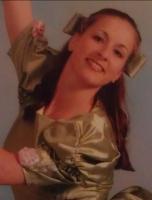 A Little Mermaid Memory, By Bulsey
Photo from Nutcracker, her Clara year & in Dream Ballet. Both shots in Barbara Reed's costumes. Barbara's costumes continue to be a mainstay in the ARB costume collections. They just never wear out and they fit EVERYONE!
Bulsey says:
I saw Loo Hoo's memory of dancing The Little Mermaid, and I wanted to share mine:
I'll never forget dancing in The Little Mermaid. I was a Mermaid and Daughter of the Air in my first ever company Spring Concert—an Apprentice rounding out such a lovely year.
The memory that truly sticks with me is when we were in Mermaid rehearsal (I swear it was a Friday!). Hellie, always physically descriptive, was telling us to run this way and that way . . . and she was pointing in each direction as she ran across the dance floor to This Corner and That Corner! And all of us followed shortly after, emulating her movements and laughter. It was so fun and funny! Yet—it was mostly AMAZING.
We were rolling with the current of the waters, and our goal was to show everyone who watched that we were beautiful Sea Ballerinas with Tails simply going along with the tide and LOVING our lives— a physical echo of what the music was singing.
And, upon reflection, I love this memory so much because I was just going along with life and LOVING EVERY SINGLE MINUTE.
I wanted to share.
Love, Bules
Thank you, Bulsey, for sharing that beautiful moment. I remember it well. : ) ~Hellie
Dance Memories Archive
Related Topics
« Back to Dance Memories